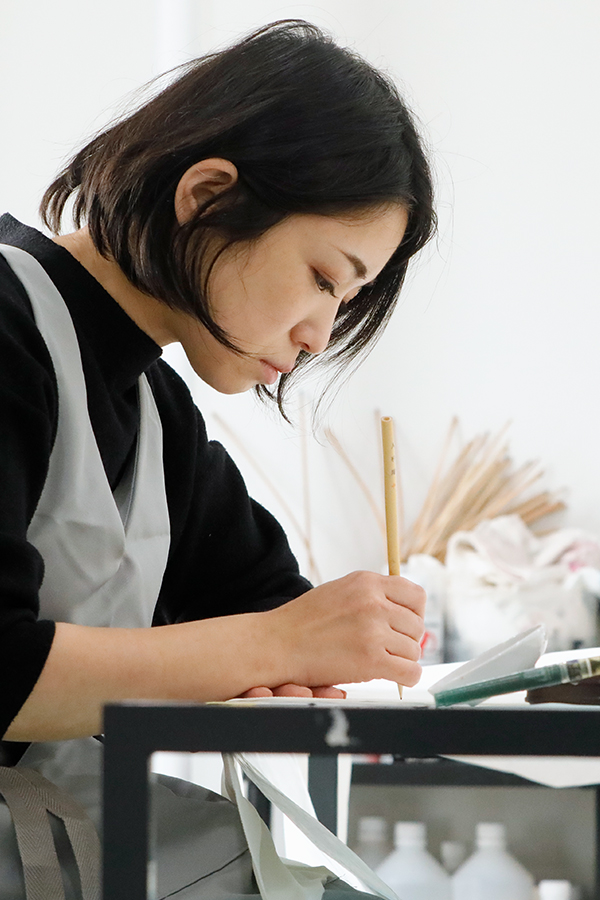 April 2007
Began training in Yuzen in Kyoto under the tutelage of Kihachiro Yoshida, an artist and traditional craftsperson.

March 2009
Selected for a prize at the Japan Craft Association Kinki Branch Exhibition for a visiting kimono "Invitation to Paradise".
Exhibited at UNPLUGGED, an exhibition of analogue dyeing works at Shunkoin Temple in Kyoto, and has exhibited continuously since then until 2014.

August 2011
Men's fashion kimono "Kemonode" won the rookie of the year award of Japan New Crafts.

April 2013
Workshops for children at KBS Culture.

September 2015
Became the youngest person in charge of the UK Furisode (long-sleeve kimono) at Imagine One World Project.

March 2016
Launched her own accessory brand "tint". As a new development using Yuzen technique, opened shops in department stores all over Japan (Mitsukoshi Nihonbashi, Isetan Kyoto, Mitsukoshi Nagoya, Mitsukoshi Fukuoka, Hankyu Umeda), solo exhibition at Kiya Nihonbashi and Kiya Tokyo Midtown. Sales at Ash Pea in France.

March 2017
Obtained the Certified Craftsperson of Kyo-Mono (Kyoto Products) in "Kyo Yuzen".
Completed the professional training course for hand-drawn Yuzen sponsored by the Kyoto Industrial Technology Research Institute, in order to improve the skills of Kyoto Yuzen, which is a division of labor.
Awarded the Mayor's Prize and the Union Prize for her completed work "Roadside Flowers".

December 2018
Lecturer for "Kyoto Studies" at Ritsumeikan University
Started selling Yuzen design tiles
Awarded the semi-grand prize at the 6th Kyo-Mono (Kyoto Products) Youth Competition.

January 2019
Changed the artist name to Morphosphere.
Opened a studio in Nagoya.

April 2019
Belong to the Hand Painted Yuzen Cooperative and in charge of new projects for producing bespoke kimonos and accessories, and making kimonos for Oman at Imagine One World project.